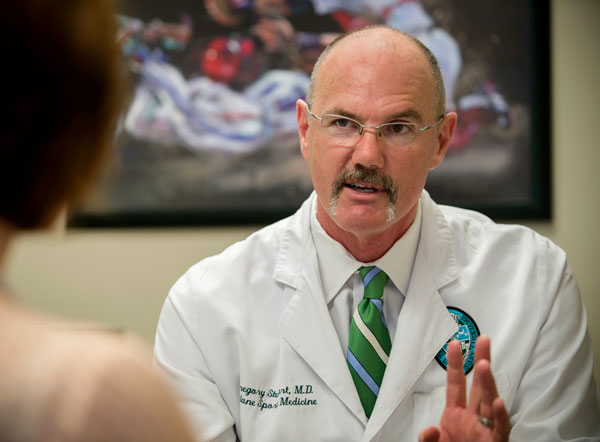 Greg Stewart, Co-Founder and Co-Director, Center for Sport
Dr. Gregory W. Stewart is the Chief of the Section of Physical Medicine and Rehabilitation, and the W. Kennon McWilliams Professor in Sports Medicine at Tulane University. He is a nationally recognized expert in non-operative treatment of musculoskeletal disorders in adults. He also specializes in disability prevention, rehabilitative medicine, sports medicine, and has a particular interest in sports concussion. Dr. Stewart is the director of the Sports Concussion Management Program and team physician at Tulane University. He has served as team physician for professional, collegiate and high school teams for over 25 years.
Dr. Stewart is active in professional associations in sports medicine and physical medicine and rehabilitation. His contributions to the sports medicine community include director of education for the Louisiana Sports Medicine Society, served on the Sports Medicine Committee of the Louisiana State Medical Society, and Chairman of the Louisiana High School Athletics Association Sports Medicine Advisory Board. He was a major contributor to the successful passage of the Louisiana Youth Concussion Act. He received funding from the National Institute of Disability and Rehabilitation Research of the U.S. Department of Education to examine the effects of mild traumatic brain injury in high school football athletes.
Dr. Stewart, an associate professor of clinical Orthopedics at Tulane University School of Medicine, earned a bachelor's degree from Houston Baptist University in 1982 and a medical degree from University of Texas Medical Branch School of Medicine in 1986. He completed an internship and residency at Louisiana State University/Charity Hospital. Dr. Stewart is board certified in physical medicine and rehabilitation.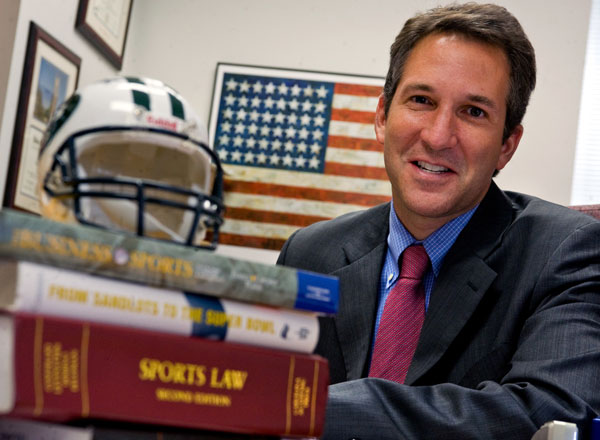 Gabe Feldman, Co-Founder and Co-Director, Center for Sport
Gabe Feldman is the Paul and Abram B. Barron Associate Professor of Law at Tulane Law School, the Director of the Tulane Sports Law Program, and the Associate Provost for NCAA Compliance. He is one of the leading voices in the country in the growing field of sports law. Feldman's extensive experience in sports law includes representing a variety of sports entities while he was in private practice, and he continues to act as a consultant for a number of clients in the sports industry. He is regularly quoted in the New York Times, Wall Street Journal, USA Today and other newspapers throughout the country, and he has made numerous appearances on national television and radio. He currently serves as the on-air legal analyst for the NFL Network.
Feldman is editor of The Sports Lawyers Journal, a law journal devoted to the study of sports law, and The Sports Lawyer, a monthly online newsletter, and was a sports law contributor to the now-defunct Grantland.com and the Sports Law Blog. He is director of publications for the Sports Lawyers Association; co-authored of one of the leading sports law casebooks in the country, Sports Law: Cases and Materials; is on the Articles Review Board for the Journal of Legal Aspects of Sport; and has been published in a variety of journals and periodicals. Much of his writing focuses on the intersection of antitrust, labor, intellectual property law and the sports industry. He also serves as a mediator and arbitrator.
He serves on the board of directors of the Sports Lawyers Association and Athletes for Hope, a nonprofit organization created to harness the power of sports to impact social change. He also is the director of Special Olympics in New Orleans and is a member of the NCAA Committee on Competitive Safeguards and Medical Aspects of Sports. He joined Tulane in 2005 and teaches Antitrust,

Sports Law, Negotiation and Mediation and Contracts. In 2013, he received a President's Award for Graduate and Professional Teaching, a Tulane University recognition of excellence in teaching, learning and research.